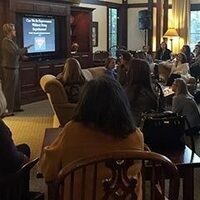 TWIST Conference for Women 2019
In business and in everyday life, navigation skills are critical. The landscape of leadership is ever changing and ever challenging, especially for women. The road to becoming an actualized leader is not easy.
What is a self-actualized leader? One who is self-aware of her strengths and her shadow, which emerges under stress. Leaders who learn to manage their shadow improve decision making and communication, strengthen their networks and teams and deliver results.
The TWIST Conference for Women in Leadership will help you chart your course by providing actionable ideas from our team of experts and speakers. You will have an opportunity to develop and sharpen skills to enhance your personal life and contribute to your organization's success.
More Information
Visit the TWIST Conference website for more information or to register.
Wednesday, April 10 at 7:00am to 1:30pm
Lodge at Ballantyne Resort
13015 Ballantyne Corporate Place Charlotte, NC 28277
Event Type

Target Audience

Website
Department

Hashtag

Subscribe